After so much media hype (including Trump himself) about the imminent arrest of the former President, it appears things are not going so well for the "we got him this time" crowd as the New York grand jury hearing evidence in the hush money probe is not scheduled to meet about the case until late April.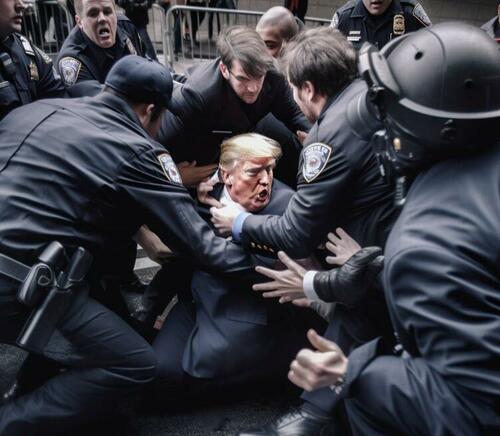 AI mock up of Trump's arrest
Politico reports, according to a person familiar with the proceedings, the break would push any indictment of the former president to late April at the earliest.
Politico claims this is due to a "previously scheduled hiatus", but that seems an odd admission now – why wouldn't that have been brought up when the world was praying for the perp-walk of the former president?
Interestingly, as The Epoch Times' Jack Phillips reports, this month-long delays comes as an attorney in former President Donald Trump's orbit who testified in front of a Manhattan grand jury earlier this month believes that there has been a shift in Manhattan District Attorney Alvin Bragg's case against the 45th president.
Read more here: https://www.zerohedge.com/political/trump-grand-jury-take-one-month-break-former-attorney-claims-i-think-i-got-through-them